This article was originally published on
Kueez
Sometimes there are amicable breakups, where both people agree to go their own separate ways and everyone is relatively happy with the end of the relationship. And then there are the absolute MESSES of breakups where curses are hurled, names are called, and chaos is the dominant theme of the interaction. This is a list of the latter, where the breakups were so brutal you don't know whether to feel bad for the other person for getting dumped in such a terrible way or happy that they dodged a bullet by no longer having to be with that heartless person anymore. You'll laugh, yell, and be in absolute shock as you see the most hilarious and brutal breakups ever found on the internet.
1. Oh, That Was Unexpected
It is kind of poetic to see how she first made the other person feel good and then took a sudden U-turn. One wonders what exactly her partner did that she played with their emotions in this way.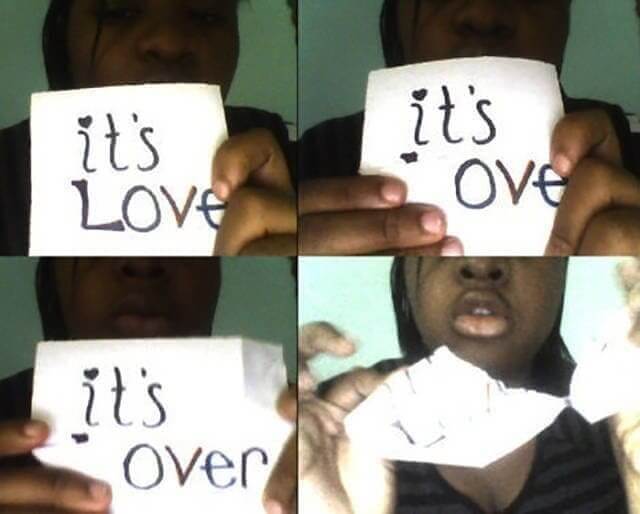 The ripping of paper at the end is like how she ripped their relationship in half.
2. No Longer Available (Emotionally and Physically)
People break up for many reasons. For instance, one woman broke up with her boyfriend because he didn't drink alcohol. A guy broke up with his girlfriend because she ate her peas one at a time. Yeah, ONE AT A TIME!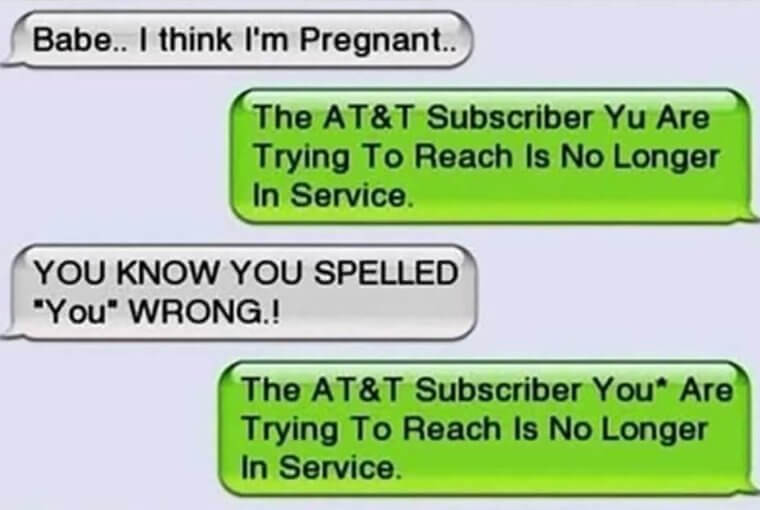 But then there are some people like this person who thought it would be best to put a brake on the relationship once he found out that his girlfriend was pregnant. Perhaps he was so shocked after reading the pregnancy message that he forgot to spell-check his reply. We don't even want to say better luck next time.
3. He Had Her In The First Half
Oh boy, we feel that Jennifer really liked surprises and got the surprise of her life that day. If you have been with someone for a little while and he or she suddenly starts behaving a bit strange or distant around you, there could be two possible reasons behind it.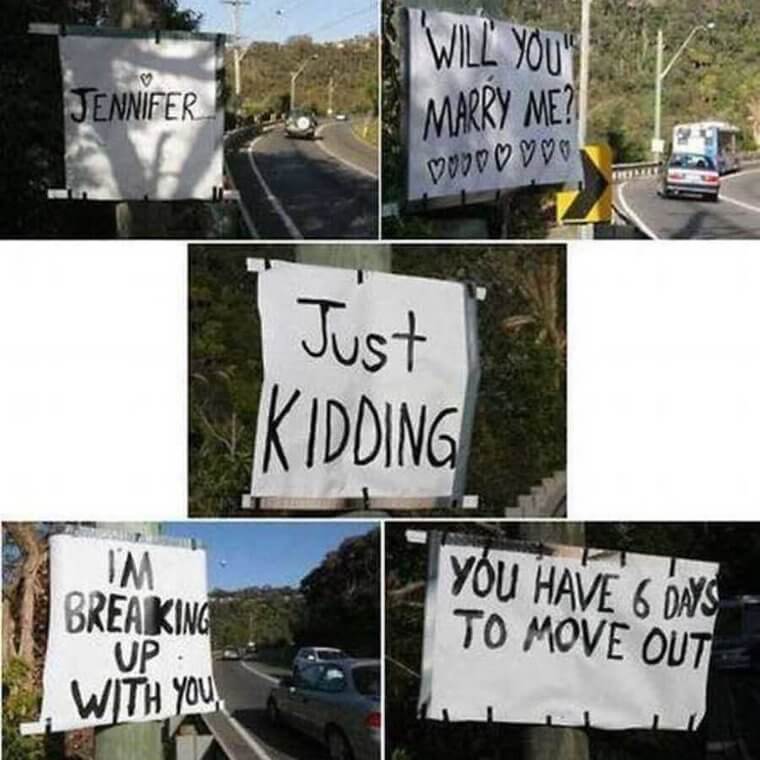 Either they are mustering up the courage to break up with you, or they are going to ask you a big question like, "Will you marry me?" Unfortunately for Jennifer, her partner dumped her pretty ruthlessly.
4. That Is Indeed Priceless
Jennifer had a hunch that her partner was not faithful to her. So, she did the smart thing and bought a GPS tracker and Nikon Camera with a zoom lens to catch her cheating husband in the act.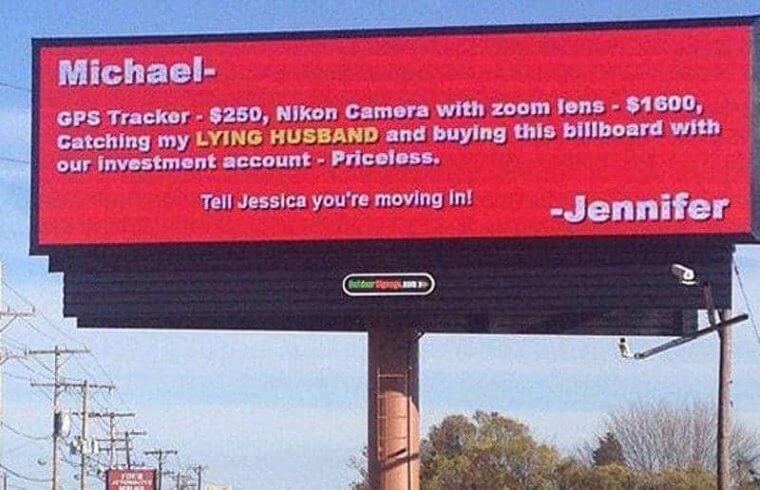 It could have been enough to end the marriage, but she wanted to take it a step further and bought a dramatic billboard.
5. A Double Breakup
Who doesn't like cheaters getting caught, right? This guy was unfaithful to two women. Instead of breaking up with one or both of them, he was having a fun time lying to them.
When both women discovered they were being played, they knew what had to be done next. Justice was served in the form of public humiliation.
6. When One Text Message Puts You In Denial
In a breakup, the dumper tries to express why he/she is breaking up, and the dumpee has no other option but to accept those feelings - no matter how difficult it may seem. Here, the person being dumped simply went in denial and ignored the text messages.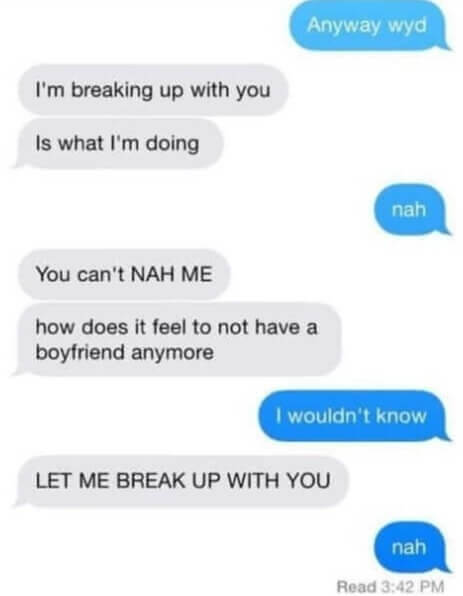 It is just like how a pigeon closes its eyes when it sees a cat. That way, the pigeon assumes that since it can't see the cat, the cat does not exist. This person was not ready to accept what's going on.
7. It's Payback Time
We have seen so far how some people took revenge on their exes. But this woman understands that revenge is a dish best served cold.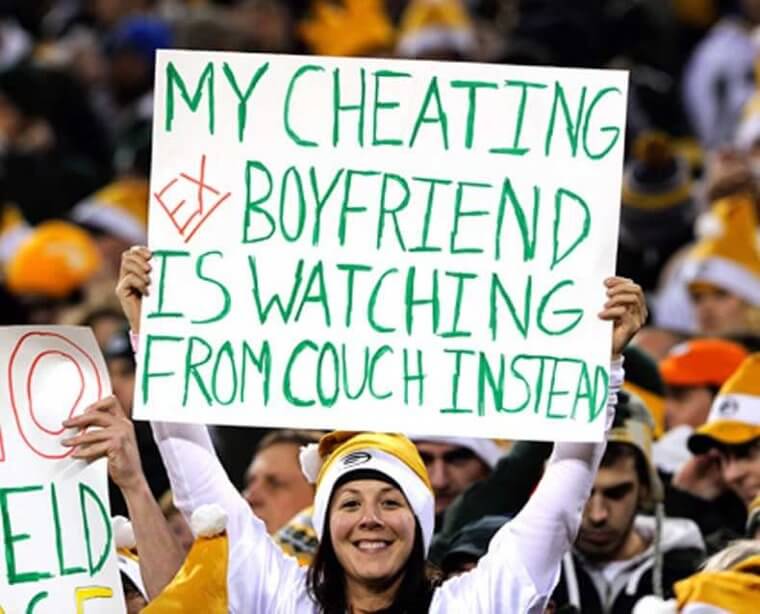 She showed her cheating boyfriend how much fun he is missing. We can hope that now he will think twice before cheating.
8. An Out-Of-The-Blue Breakup
If your boyfriend or girlfriend sends you a text message that says, "we need to talk," there is a high probability that you're going to be single soon. You get sweaty palms, and your heart rate starts to increase rapidly.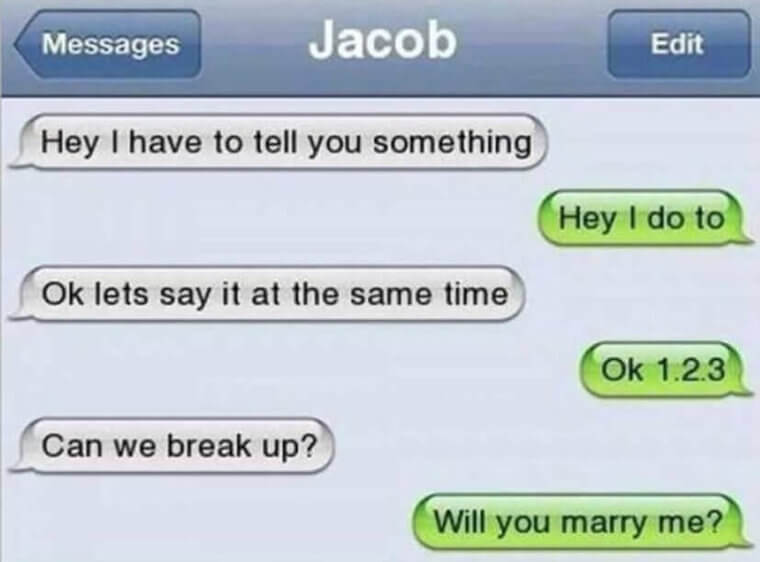 What makes it worse is how this person had no idea that any of this was coming - talk about brutality.
9. Hey, Take a Good Look At Yourself
Some people break up face-to-face, on the phone, in text messages, or in letters. And then there are people like this person who broke up while keeping it short and sweet.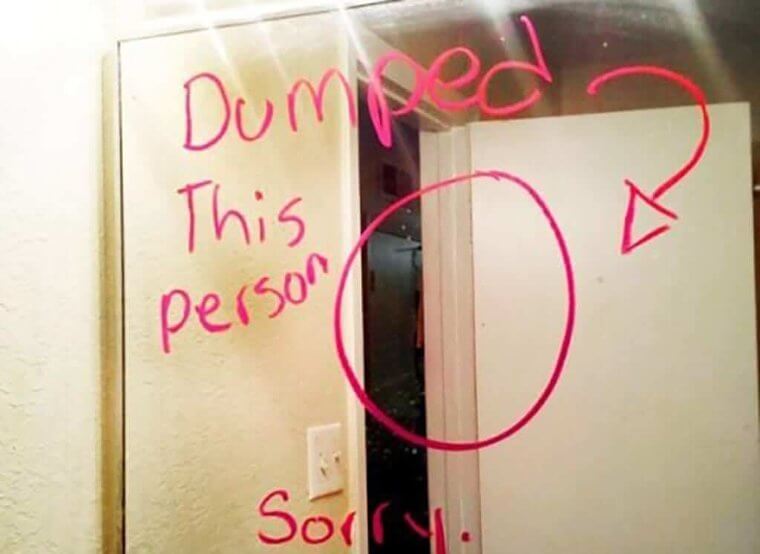 Just when you thought that you had seen different ways people break up, someone was dumped while looking in the mirror. The 'sorry' at the end is just making things worse.
10. A Neighborhood Embarrassment
You want to settle down after getting married and create a life for yourself by buying a house and forming relationships with your neighbors. However, things change when there is a bad relationship breakdown such as this one.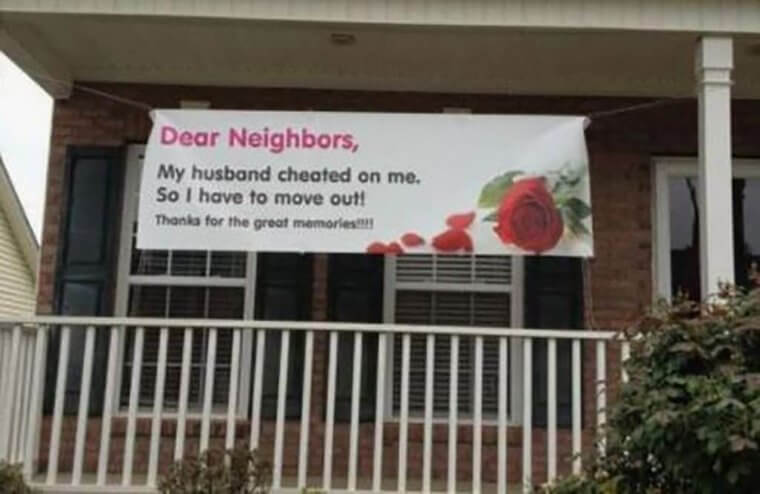 This wife no longer wanted to be treated like absolute trash by her husband, so she moved out and left the real trash there. As her pride took a hit, she perfectly humiliated her husband in the best way possible.
11. Probably She Wasn't Or May She Was
When you come to a point in a relationship when even a sit-down conversation seems impossible, it is best to end the relationship and move on calmly. However, if your partner is cheating on you, there is always an option to humiliate them in front of everyone.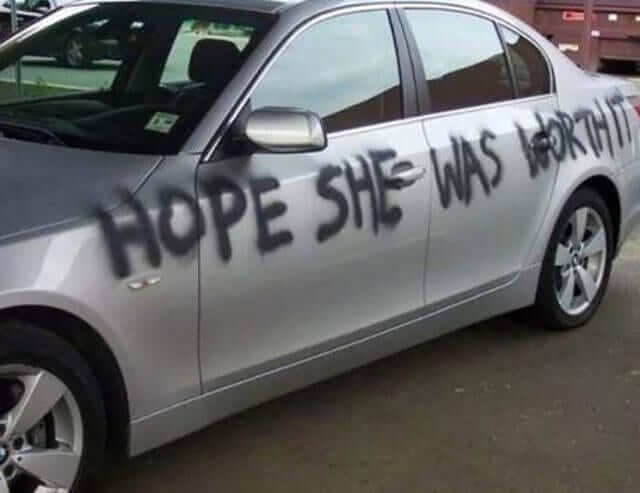 We don't encourage what this lady did, but can you really blame her after what she discovered about her partner? She sent a breakup message and got her revenge all at once.
12. It Was Fun While It Lasted
Starting a new relationship can be exciting. It gives you the chance to get to know the other person and make memories, just like your first month-versary.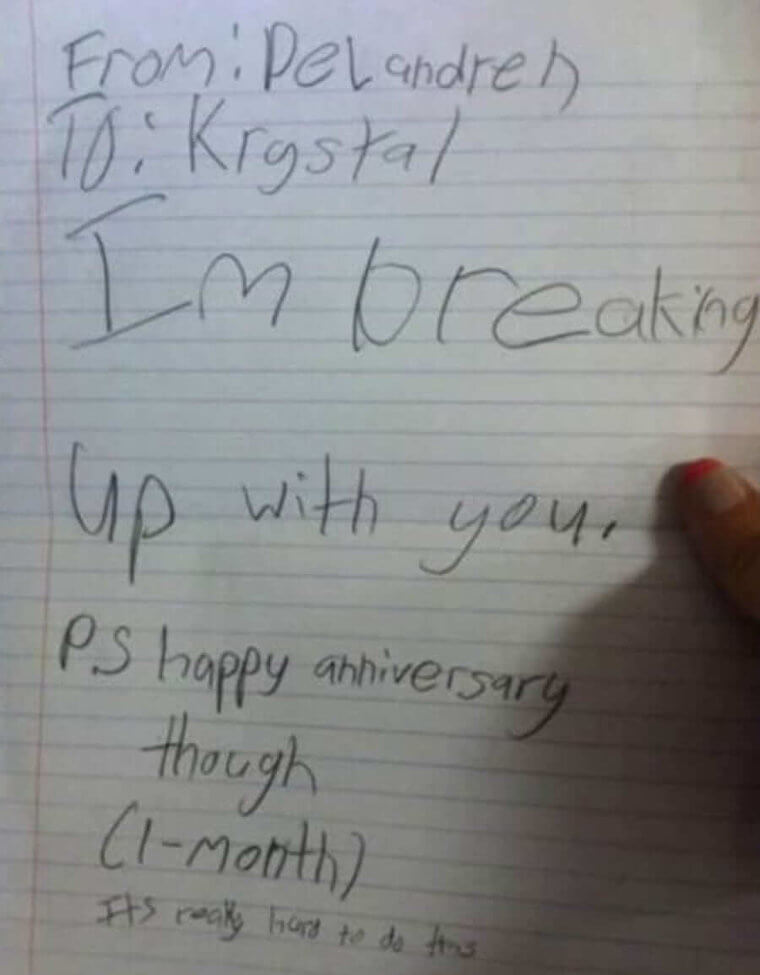 Here, Delandrel could not break up with his girlfriend over text, face to face, or a phone call. Instead, he mustered up the courage to write this note for Krystal. We can hope that she took the news well.
13. Clear Enough For You?
Abbreviations save you time when writing. They make communication easier and faster. After all, why go through all the trouble of writing out exactly what you want to say? One wonders what he was planning on doing with all the time he/she saved - install Tinder?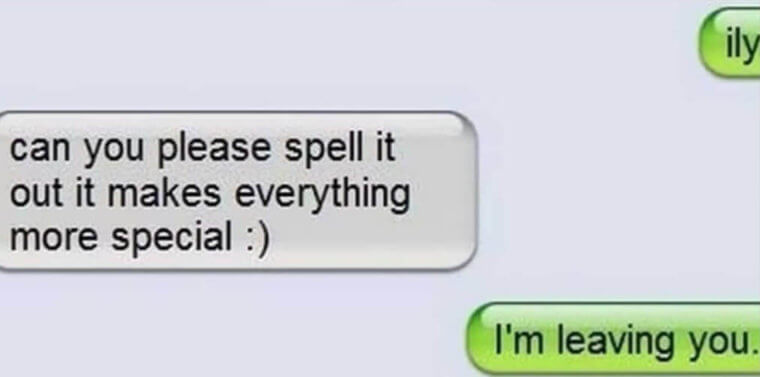 However, the dumpee thought that it meant "I Love You." They wanted their (now former) partner to "spell it out" to make it more special. Well, it wasn't special, just a bad memory that will be hard to forget.
14. A Perfectly Timed Break Up
If you want to break up with someone, never try to do what Laura has done here. The timing of their breakup is horrible as she decided to dump him on Valentine's day.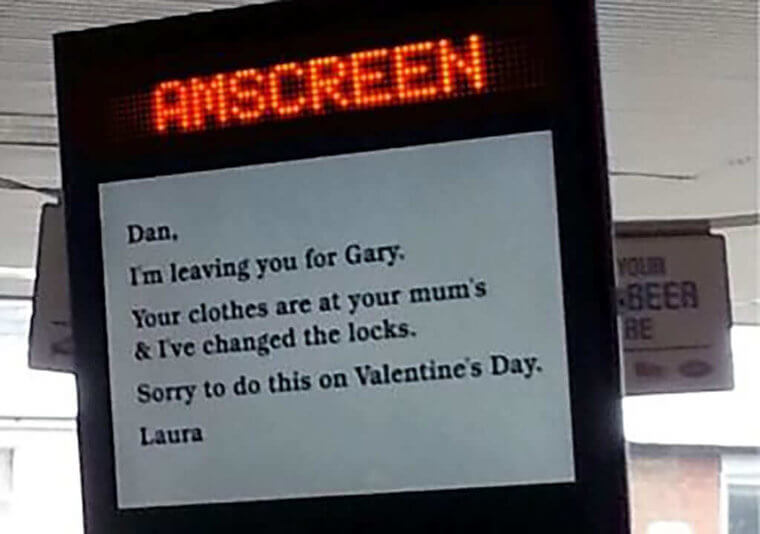 One can only hope that he didn't plan anything special that day, or a luxury Valentine's Day dinner reservation. In short, avoid breaking up with someone on anniversaries, birthdays, and especially Valentine's Day.
15. No Need To Sugarcoat It
This person knew that breaking up wouldn't be easy. So, they got straight to the point and just got it over with.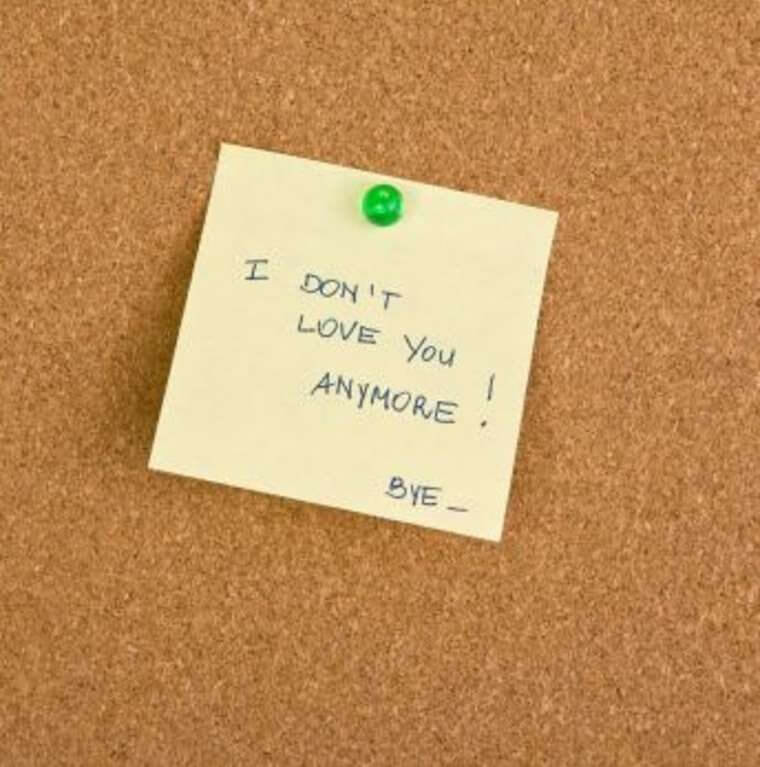 After all, why write long letters when you know that the other person might never understand your point or forgive you? It seems like this person took inspiration from Nike's slogan "Just Do It."
16. Celebrating Breakup
Although breaking up is not the best thing in the world, there is no harm in trying to put a smile on your ex's face, right? Why are cakes only for happy occasions? Someone took the bold step to change this opinion of the people.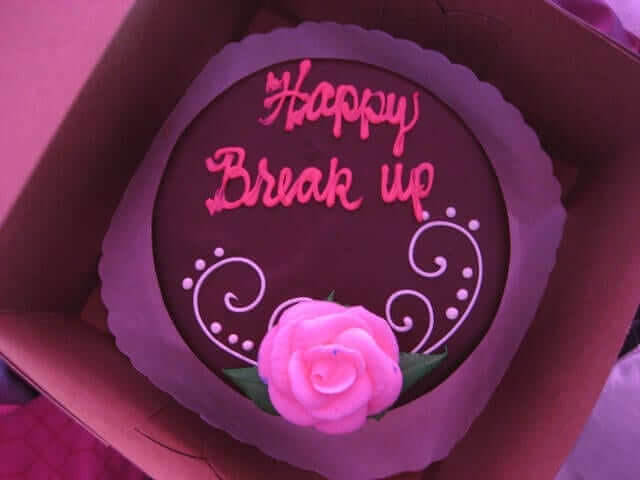 Maybe this person knew about their soon-to-be ex's different way of dealing with things. Hopefully, it was a tasty cake at least.
17. An Emoji Is Worth A Thousand Words
This is a man of a few words. He knew that no amounts of explaining would be enough to convey what he wanted to say. So he used emojis to break up with his girlfriend.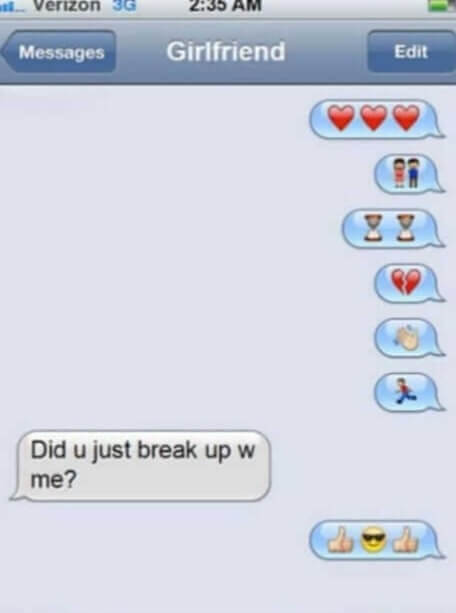 Given that his girlfriend figured out that she was being broken up with, the guy did a pretty good job of it.
18. A Sweet Goodbye
When it comes to breaking up, people get emotional and it can get hard to dump someone who used to mean so much to you. Why not make the dumping part sweet? This person was kind enough to get a delicious cake for their ex to help them digest the shocking news.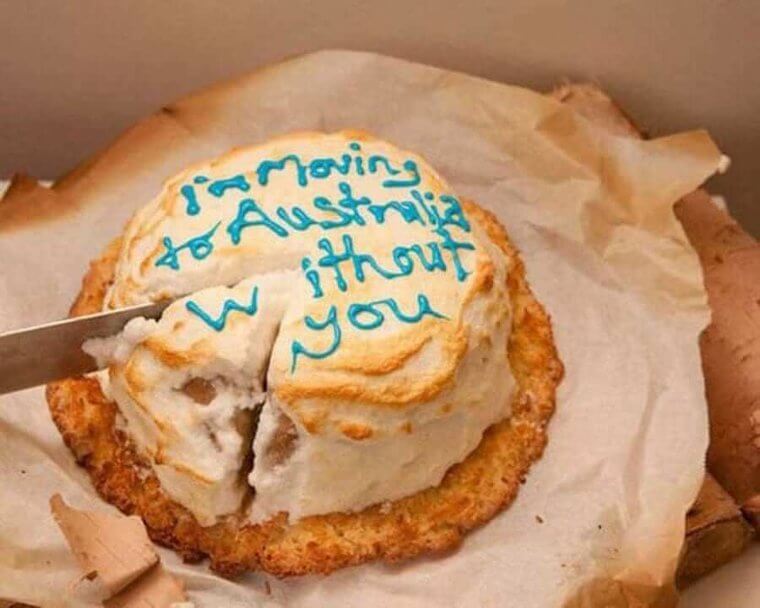 To all those people who thought humans had become heartless pieces of garbage, we think that the faith in humanity has been restored.
19. Now That's Better Than a Cake
You saw how someone broke up with their partner by using a cake? Well, pizza is also really good breakup food as it makes everything okay, at least in most cases.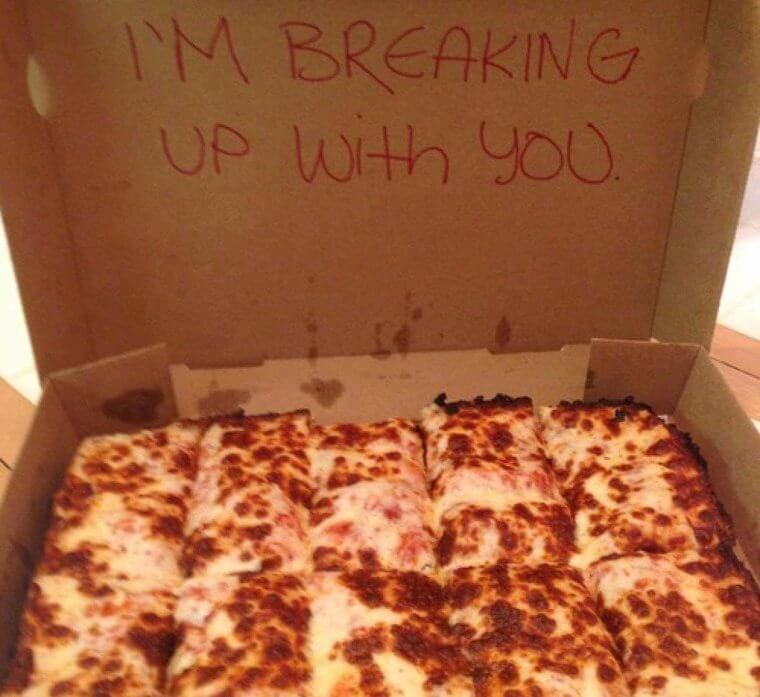 Hey, it is a thousand times better than saying things like, "it's not you, it's me." And it also helped avoid a messy argument.
20. A Sweet Billboard Revenge
Sometimes you cannot find another way to spill the tea and a perfect idea comes to mind that you cannot resist the temptation of going ahead with it. Well, one woman came up with the ideal plan to get back at her cheating husband, who she caught on tape (that's some strong evidence right there).
Emily humiliated Steven in front of everyone. She made sure the world knew about her immoral and sneaky partner by paying for the board from their joint bank account.
21. He's A Loser
Dave is a loser as he lost his wife, kids, and savings in an instant. When his wife found out about his affair with another woman, she knew what to do next.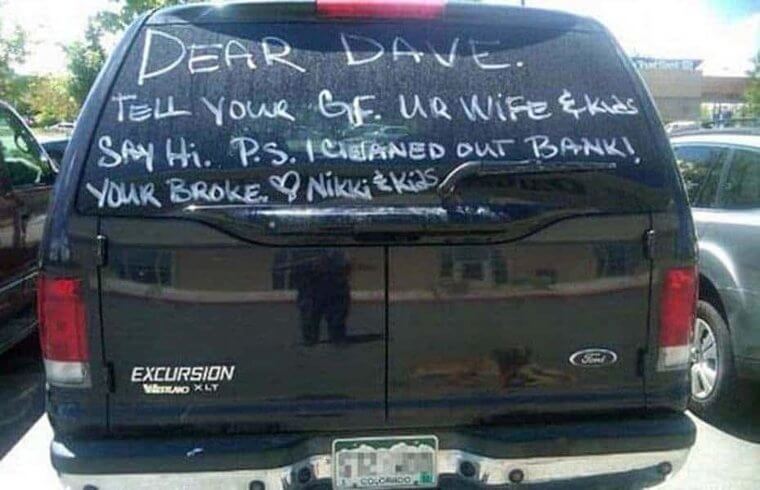 So like every sane person, she cleaned out the account and took the kids. The lesson being: don't cheat.
22. A Note With A Goodbye Kiss
It hurts when someone breaks up with you after writing a note that hardly took 0.5 seconds to write. There is nothing to like about this breakup note except for that goodbye kiss.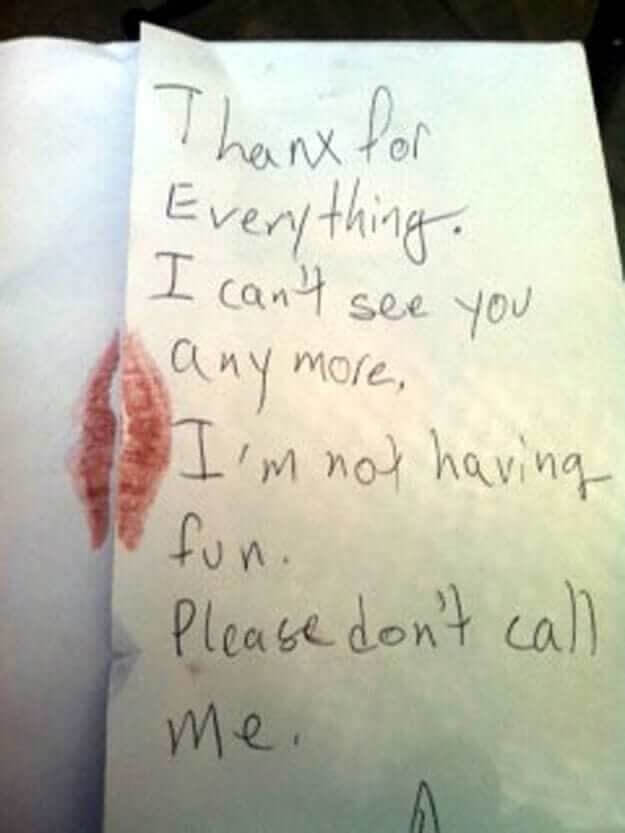 We can only hope that a goodbye kiss helped put that person in a good mood. At least she was blunt and didn't make any lame excuses.
23. Everything Must Go
When you find out that your loved one has betrayed you, emotions can run pretty high, and things could go wrong. But not for this dude who was cool about it and realized an opportunity to earn some extra cash.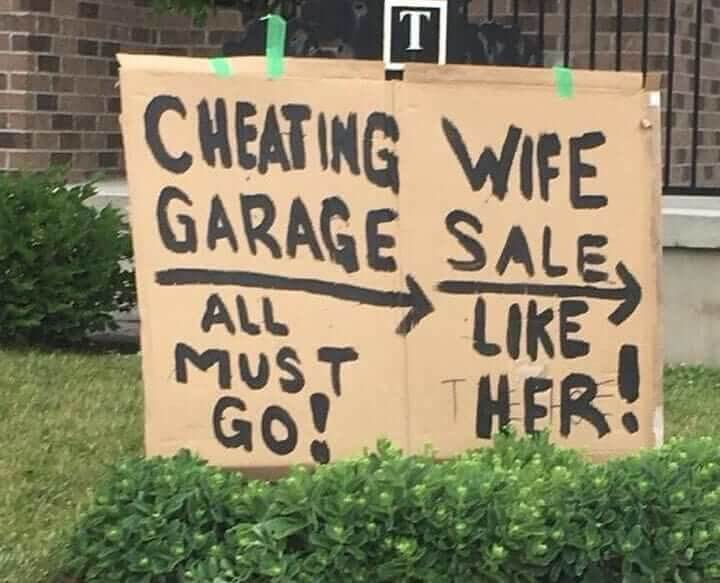 He came up with a clever idea to get rid of his soon-to-be ex-wife's stuff without the hassle. Imagine the reaction of his wife when she noticed the sign. Did she repurchase some of her stuff from him?
24. The Playlist Said It All
Unlike all the breakup messages before, we think this one takes the top position. Expressing your love for someone with a song is a great way.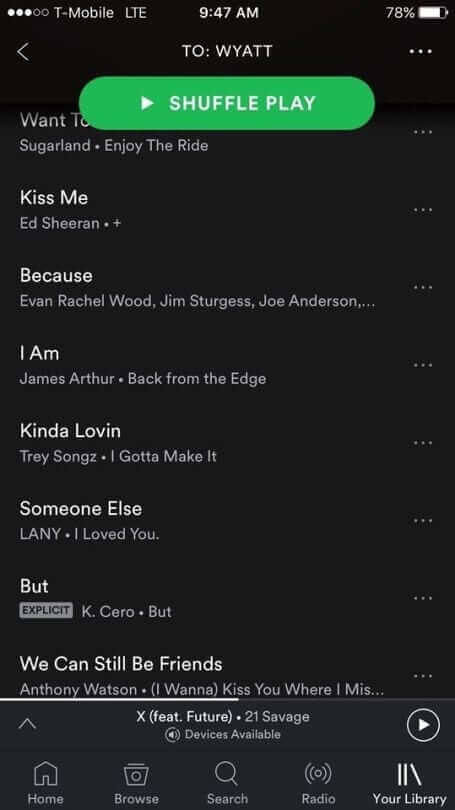 But what better way to break up with someone than with a perfect playlist? We don't think there is a chance they're going to stay friends.
25. Yep, That's A Burn!
If something makes you happy, you go get it. If someone cannot make you happy, you go end it. Take that advice and do what you will with it.
This person made it plain and clear here because they did not want to spend the rest of their life with someone they don't like. The "Things I Like About You" list ended before it even started.
26. Let The Treasure Hunt Begin
Have you have ever tried to solve a riddle before? We can bet it wasn't as fun as this one. This guy left his Facebook account open, and his girlfriend read a shady message from Kelsi. Instead of getting mad and doing something crazy, she decided to set up a cool treasure hunt game.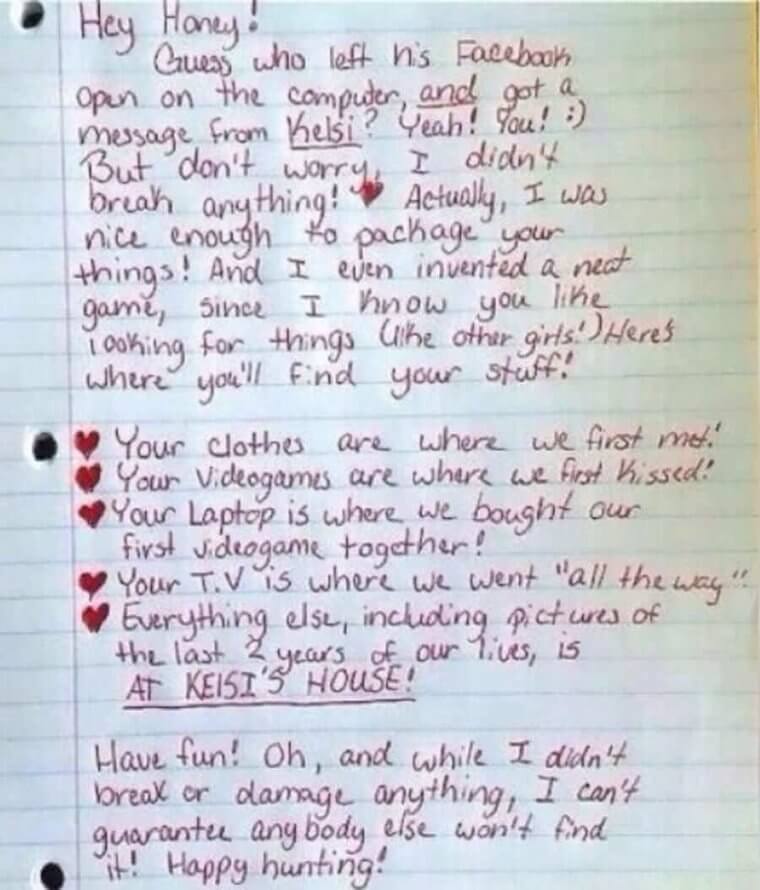 We have a strong feeling that he didn't do well on that treasure hunt. Now, he is Kelsi's problem, or maybe she dumped him as well.
27. Avoiding Problems Like a Pro
Thinking ahead can be helpful and it is something many of us do regularly. Instead of living with the girl he met online, he looked into the future and realized that it was not a good choice to marry her.
So, he broke up with her while the iron was still hot. At least he got to keep the house in Hawaii.
28. Starbucks Love
When in a relationship, it is important to show your partner that you love them. Of course, there are no specific rules when it comes to expressing your love.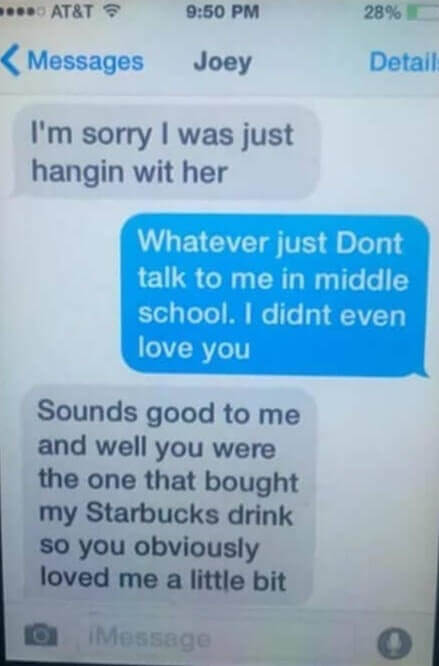 You can send beautiful good morning/good night messages, buy flowers for them, or you can buy them a Starbucks drink. If you think that buying a Starbucks drink for someone means you love them, try to convince Joey.
29. A Breakup Poem
Poetry writing enables people to express themselves better. It not only communicates a message but also helps you put emotions into it. Well, that's what this person did when they started a poem with their partner.
Seeing that the other partner started reciting poetry as well, they finished the poem off with a harsh rhyme. I never loved you is, without any doubt, a hurtful thing you can say to someone.
30. It's Crying Time
Some people sense a change in their partner before the breakup, and some come to know about it through others.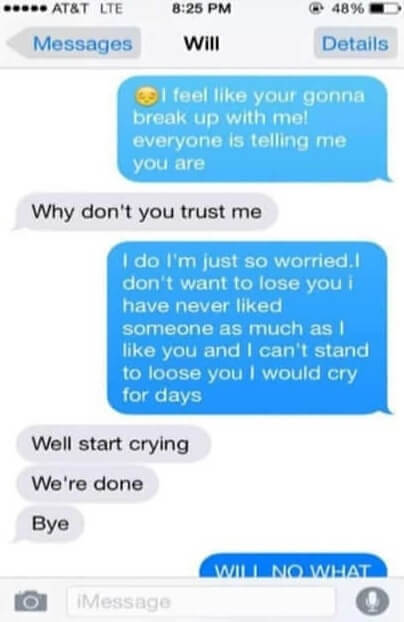 Will's girlfriend couldn't believe it when others said he was going to break up with her. As she decided to talk to him about the rumors, it turned out they were true. We feel bad for her.
31. Taking Breakup Inspiration From An Unlikely Place
We can understand that sometimes you try so hard to find the right words to say, but to no avail. However, it doesn't mean that you start stealing words from other people, especially movies. Especially movies that are so freaking popular.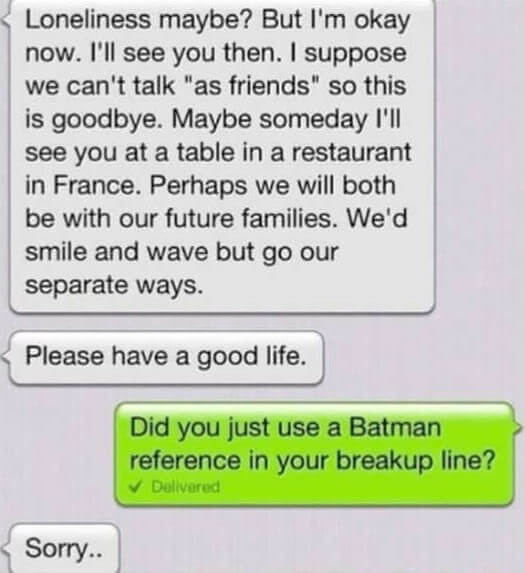 This person actually used a Batman reference (conversation between Alfred Pennyworth and Batman) in their breakup line.
32. I Have All The Space You Need
Sarah was feeling down, so her partner asked if everything is okay. Sarah was brutally upfront about her feelings. She wanted some space, and that is perfectly okay.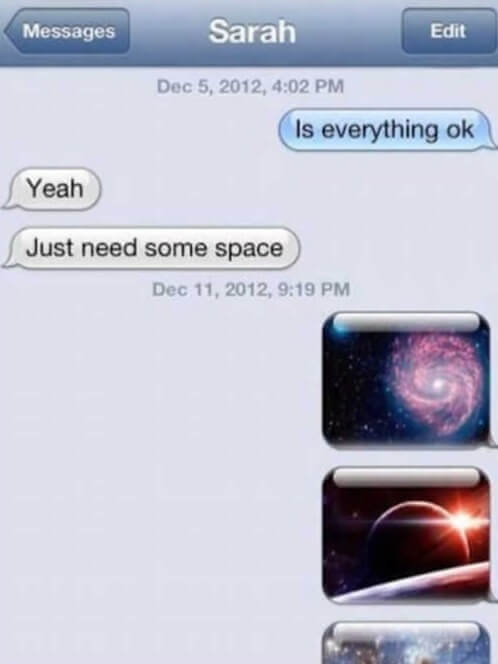 Maybe her partner thought she was talking about stars and some planets. And the partner was like, "Here, have some space." Sarah, we don't know what's going on in your life at the moment, but this guy seems like a keeper.
33. Game Over, Man!!!
Sometimes, you break up and your partner doesn't get the message loud and clear. It would be best if you got inspiration from this personal statement example.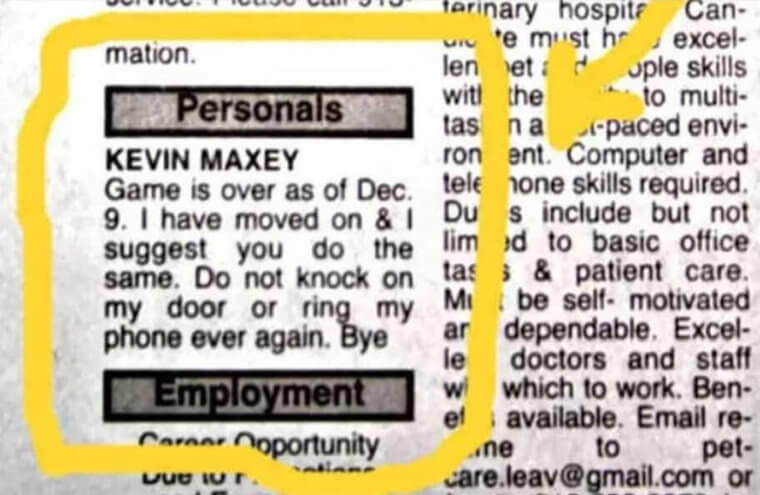 Well, nothing is more permanent than an advertisement. Imagine if they do get back together. The advertisement in the paper can't be undone now.
34. The Biggest U-Turn In The History of Break Up Messages
Small gestures and cheesy lines like, "you are like oxygen to me" or "you are like sunshine in the rain" can go a long way in a relationship. It feels good to read a lovely message, but the writer of this one took a massive U-turn. Maybe they thought it might help ease the pain.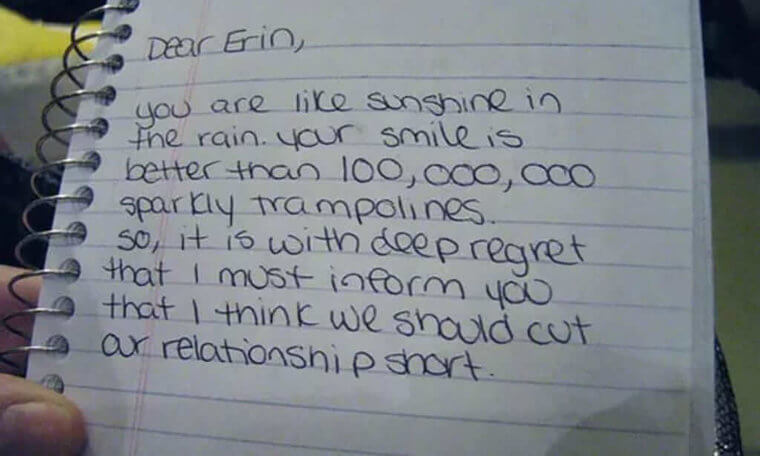 We feel bad for poor Erin, who was told that their smile is better than 100,000,000 sparkly trampolines.
35. Sike, That's The Wrong Number
We don't know if this husband intentionally or unintentionally messed up, but one can see that he landed in deep water with that text message.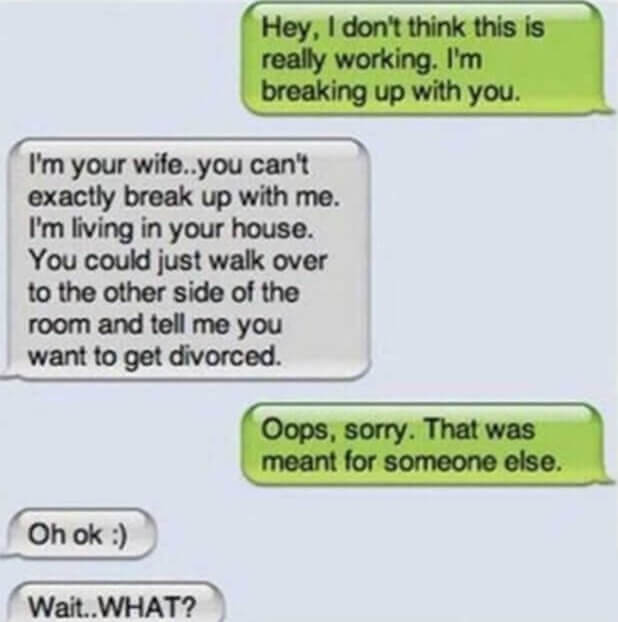 To make matters worse, he even confessed that the message was meant for someone else. It shows how important it is to check whom you are texting before sending the message.
36. A Breakup Multiple-Choice Question
You graduated and thought that you might never have to answer multiple-choice questions again in life. Well, that's what this person thought at least, before they came home to find this note.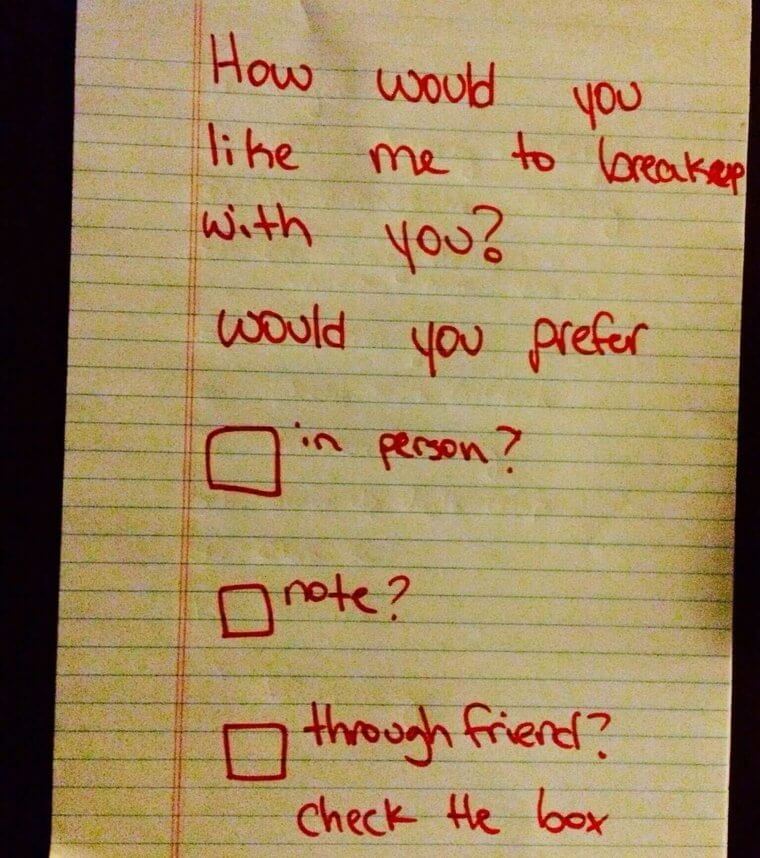 In theory, it seems like a good idea to tailor a breakup, but it seems flawed - this person knows their partner dumped them already.
37. Trying Hard But Failing
It is amazing to find someone who has a similar wavelength to you, like a sense of humor. However, the fun part of a relationship does not last long if you can't laugh together.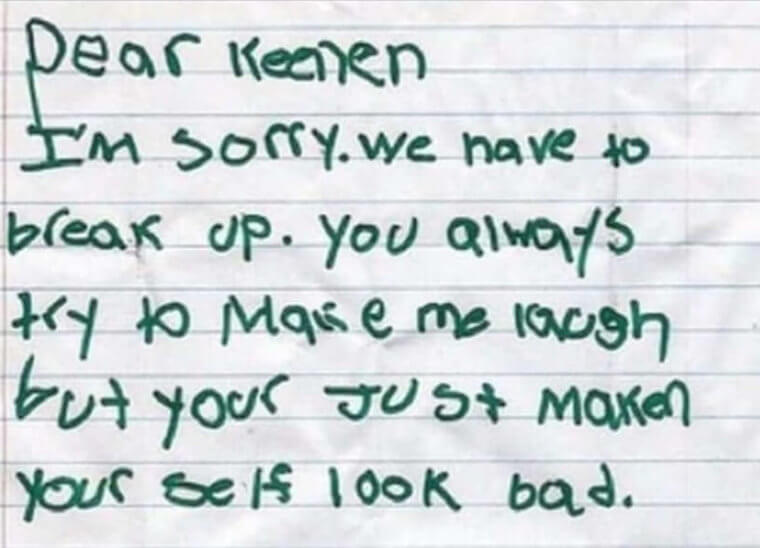 So, it seems like Keenan tried to be funny and was missing the mark every time. That had to hurt a lot.
38. A Mean, Mean Breakup Message
We have no idea what this poor person did to deserve such a heartless text message. However, we have to admit that it is really creative.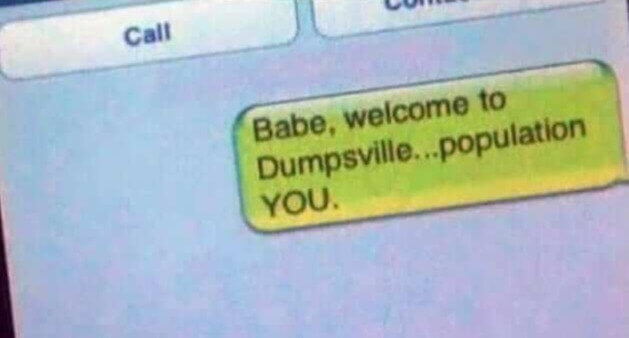 It shows that someone took a huge amount of time to develop such a breakup text message. As if breakups were not hard, this person made it a much harder pill to swallow.
39. Ahhh, Young Love
Breakups can be difficult. After all, you think that it is the end and everything seems directionless. Some people break up because they grow apart.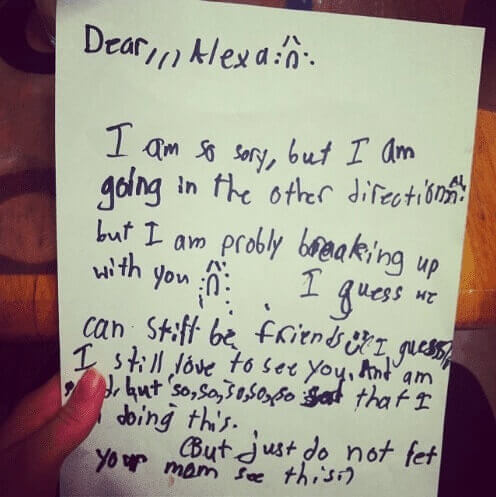 Given that this letter is full of sad faces, we think that many emotions have gone into it.
40. Keeping It Short and Simple
You saw that billboard break up in this list, right? Well, this is one good way to divorce someone if you don't want to talk face-to-face.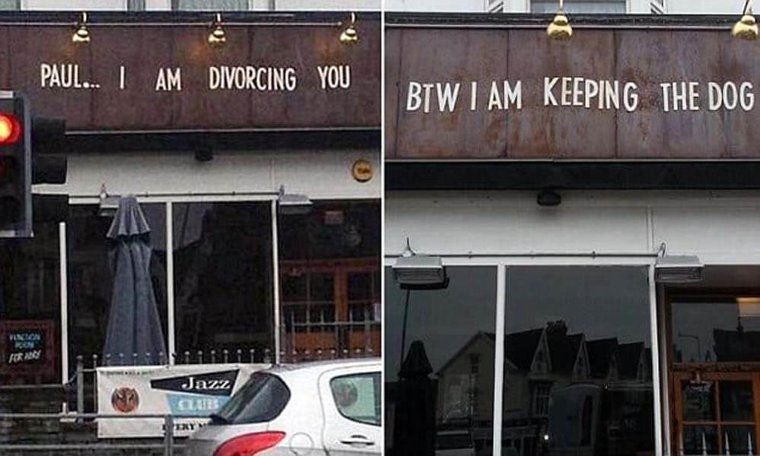 It is a clear and concise way to give them all the information they need. This person is divorcing Paul and also taking the dog. How simple is it, right?
41. Too Much Hate
There is not a fine line between love and hate, but this woman found that line.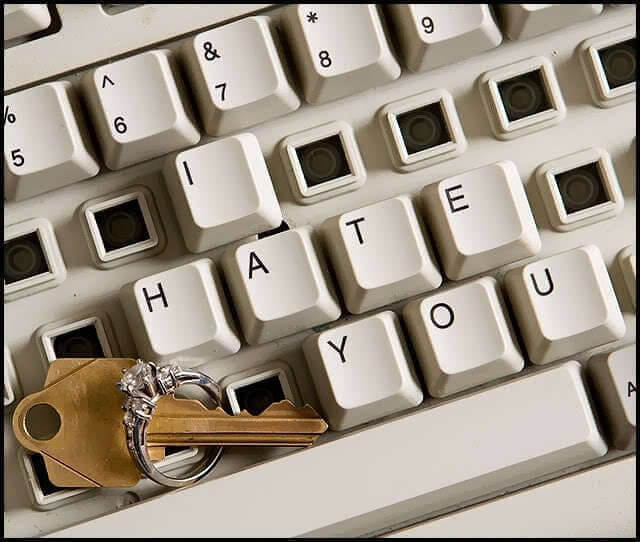 Instead of crying about it, she avoided the begging/crying of her partner or any conflict by spelling out her anger. Honestly, this is actually pretty creative.
42. Just Another Autocorrect Thing
We have nothing against autocorrect as it is pretty awesome, but it sometimes messes up what you really want to say. It can make things pretty awkward.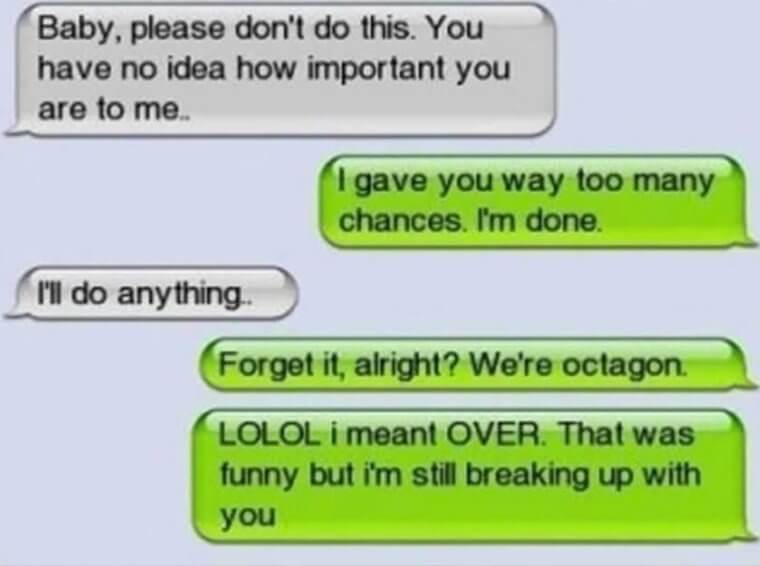 In this case, the autocorrect managed to make the situation a bit funny, but it did not mean they weren't breaking up.
43. Never Making A Wish Again
You make a wish at 11:11, and hopefully, it comes true. As this couple decided to make their wishes together, we have a feeling that one of them was a bit quick to make the wish first - to break up with their partner before it got too serious.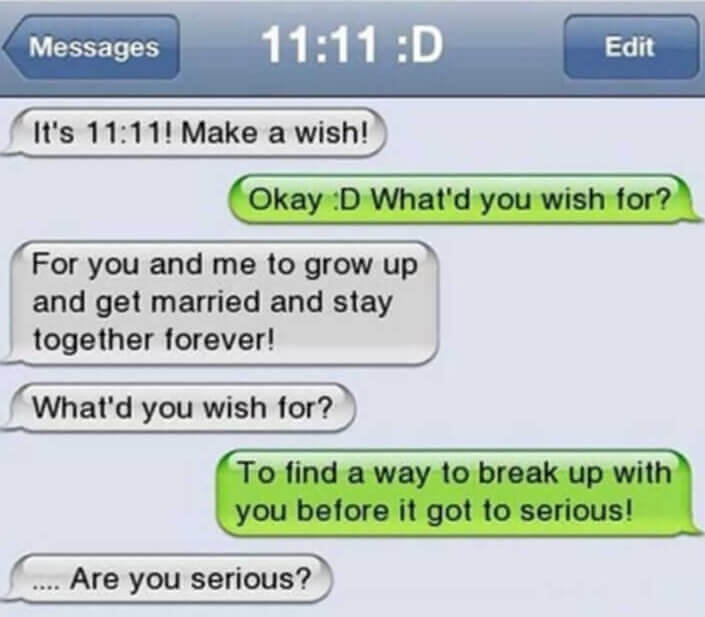 Hey, at least one wish came true that day. Unfortunately, the same can't be said for the person who wanted to grow up, get married and stay together forever.
44. The Harsh Truth
When Mark decided that he couldn't stay with Brenda anymore, he packed everything and moved out. It seems like the doggo gave an innocent look to Mark that said, "Bro, I feel the same way about Brenda and you leaving me here? Really?"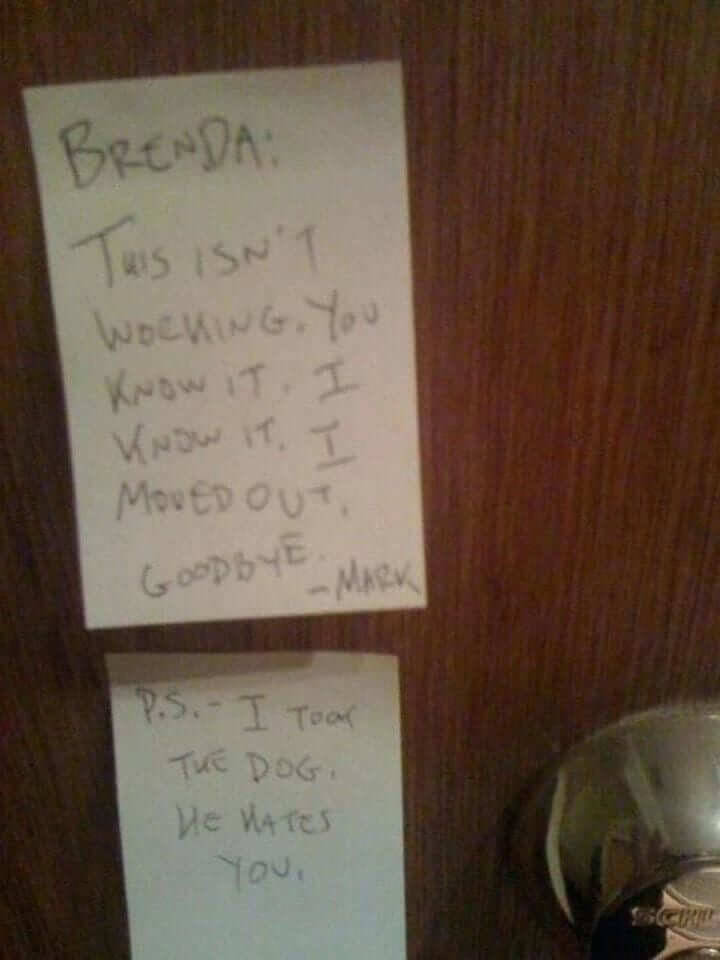 We have a feeling that Brenda could have lived with the dumping part. However, the heartbreaking thing for Brenda is that even the dog hates her.
45. Not An Actual Movie
As there are so many movies out there, it's not unreasonable to doubt that there is a movie out there called Other People. In fact, there is a 2016 American comedy-drama film with the same title.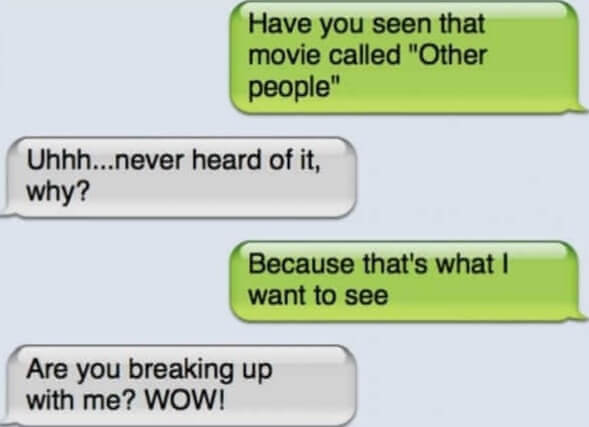 So, the boyfriend casually dropped the idea of a breakup into the conversation. Although it did the job, we feel that it is not a nice move at all.